It's that time of year: Headless Horseman Hayrides & Haunted Houses in Ulster Park is a major destination for spooky thrill-seekers all across America. In the news, it's been featured in TIME Magazine and Good Morning America; online, it's been written up by outlets like Mental Floss, Vice, Buzzfeed, Narratively and is consistently on all of the top lists of haunted houses in the entire country.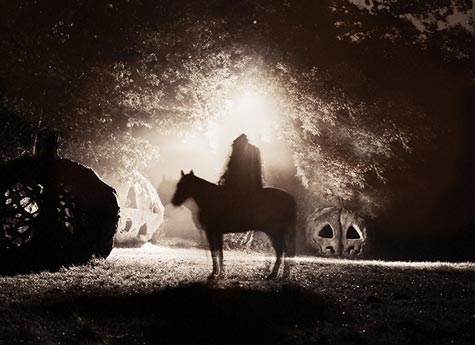 This month, the hayrides and haunted houses will be open on Saturday, September 21 and 28. In October, they will run Friday, Saturday and Sunday every week ⁠— beginning at dusk and going until 11 p.m. Tickets are available on-site and online. There are also two daytime children's events on October 12 and 26, which will feature a children's corn maze, haunted gardens, games, face painting and a stage show, from 11:30 a.m. to 3 p.m.
If you've already made up your mind about making the journey up Route 9W to Ulster Park, why not make an afternoon, evening or whole day of it? There's plenty to do in our town.
1. Esopus Fall Festival (September 28)
While this first item may be cheating a little bit by being multiple events, it all occurs on the same day. On Saturday, September 28, the Town of Esopus will be holding its annual Fall Festival.
The Festival encompasses several events happening throughout the day, and spans all across Port Ewen. Stop into town Saturday morning to check out the United Methodist Church's 49th Annual Apple Festival and enjoy some fresh-baked apple pie, then visit the Esopus Library Book Sale (happening all weekend) for some cheap reading. After that, continue the savings by visiting a few shops at the Town-Wide Yard Sale, and finish off your afternoon adventure with an outdoor movie screening at Family Fun Night — all with time to spare to make it to the hayride.
2. Esopus Library Fall Concert (October 11)
The Town of Esopus Library is putting on a series of fall concerts every third Friday to give local talent an opportunity to show their skills. The first show of the season on Friday, October 11 will feature a free music performance by the Esopus Library house band, which goes by the name Overdue.
The show goes from 7 to 9 p.m., so you could potentially check it out before your hayride. The Town of Esopus Library is located at 128 Canal Street in Port Ewen.
3. Fall Festival at Woodcrest (October 5)
The Bruderhof Community based in Rifton is holding their annual fall festival on Saturday, October 5 from 3 to 6 p.m., at 101 Woodcrest Drive in Rifton.

They'll have a kiddie train, hayrides, face painting, spin painting, free food and more. You can check out the event on Facebook, or call (845) 658-7752 for more information.
4. Wood'n Wheel Family Fun Center
If you have some time to kill on a Saturday or Sunday afternoon before your Headless Horseman visit, the Wood'n Wheel Family Fun Center is open from 1 to 4:30 p.m. on Saturdays and 12:30 to 4 p.m. on Sundays.
Outdoors, you have options like "no snow" tubing, paintball, a bungee trampoline, and many more. Indoors, there's bumper cars, roller skating, laser tag, a rock wall, and a redemption arcade.
Wood'n Wheel is located at 365 Route 9W in Ulster Park.
5. Pick your own apples and pumpkins
Esopus is home to two "pick your own" venues: Maynard Farms and the Apple Bin.
Maynard Farms is located at 324 River Road in Ulster Park, and they're open on Saturdays and Sundays from 10 a.m. to 5 p.m. You can see what kinds of apples they currently have available here, and they usually have some other local produce available as well. They also have pick-your-own pumpkins in addition to pumpkins.
The Apple Bin Farm Market is located at 810 Broadway in Ulster Park, and is open from from 7:30 a.m. to 6 p.m. every day except Tuesdays. In addition to pick-your-own apples, they have a market that has lots of local produce, preserves, flowers, firewood, gift items, pastries and baked goods (like cider donuts), and they make legendary breakfast and lunch sandwiches.
6. Try the wine at El Paso
If you need a little liquid courage before hitting the hayride, El Paso Winery has you covered. Located at 742 Broadway in Ulster Park, they're open from 11 a.m. to 6 p.m. for free wine tastings on their beautiful deck, which has some serious fall foliage going on right now.
(Obvious but important note: please drink responsibly, have a designated driver or plan to use a tax or ride-sharing service if you're going to be drinking.)
7. Have a picnic by the Hudson River
Photo: Robert Rodriguez, Jr.
You can hit the previous stops on the list for some treats, or Smith's Store in Port Ewen (202 Broadway, Port Ewen) or the Country Store (1063 Route 9W, Esopus) for sandwiches, and then head to one of several parks or trails along the Hudson River for a picnic. The easiest one to access is Esopus Meadows Park (257 River Road, Ulster Park), which gets you to the water after a short walk from the parking lot.
8. Get dinner
Depending on the vibe or dietary restrictions you're going for, there are lots of options for food in town.
If you're looking for an Irish bar with a pub menu, Molly Rose Pub (1059 Route 9W, Esopus) has you covered. End Cut in West Park (1746 Route 9W, Esopus) has a cozy atmosphere and wholesome farm-to-table fare. Stonehedge Restaurant (1694 Route 9W, West Park) has been in the community for over 30 years and has a CIA graduate chef making American fare. La Roma (405 Broadway, Ulster Park) and Mario's Pizza (186 Broadway, Port Ewen) both have great pizza and Italian options. The Frozen Rainbow (90 Old Route 9W, Port Ewen) has indoor/outdoor seating, legendary ice cream and a 1950s drive-in aesthetic. And the Port Ewen Diner (295 Broadway, Port Ewen) is the epitome of a reliable small-town diner.
7. Take a hike
Between Shaupeneak Ridge, Black Creek Preserve, Esopus Meadows Preserve, the John Burroughs Nature Sanctuary or High Banks Preserve, Esopus has lots of quality hiking.
8. Visit historical sites
Photo by Wikipedia user Bikeable
If you're looking for some cerebral activities, Esopus is home to three significant places for history buffs:
The Klyne Esopus Museum (764 Route 9W, Ulster Park): Housed in a church from 1827, this museum is open on Saturday on Sunday afternoons by appointment and has exhibits and programming that tell the story of the area from pre-colonial times, to the Revolution, Civil War, all the way up to today.
Slabsides (261 Floyd Ackert Road, West Park) is a nationally-known historic site, the cabin retreat of famous naturalist John Burroughs. It's surrounded by 200 acres of woods (including 4.5 miles of trails). It's open every day, and tours of the cabin can be arranged in advance.
The Sojourner Truth Statue (corner of Route 9W and Salem Street, Port Ewen) was built in 2009 to commemorate the legendary activist for equal rights and justice, who spent the first 32 years of her life in the area. The full story can be found in this article on our site, but if you look around in Esopus, there are lots of points of interest about her life. For example, Truth actually traveled through the Shaupeneak Ridge on her walk to freedom, and a geocaching group even recreated her path.